Effective Visual Communication of Science
Course description

In this course you will learn to effectively communicate your own scientific ideas and results by applying best visual communication practices to your research communication. You will understand the principles and useful design approaches used by experts. You will get feedback on a selection of your figures, slides and posters submitted ahead of the webinar. In an exercise, you will draw a sketch of your research (a graphical abstract) and discuss it with other participants.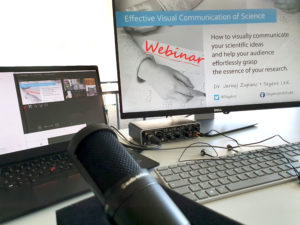 Topics include:
Communicating with scientific vs non-scientific audiences
Visual perception and what humans find intuitive
Layout: a global structure that simplifies comprehension
Eye-flow: effortlessly guide the audience through the design
Colors: how to amplify, not 'fancify'
Slides that amplify your messages when presenting
Posters: strategy and process for creating posters that attract and explain
---
Learning objectives
Distinguishing between communicating with scientific vs non-scientific audiences
Describing the principles of visual communication and recognizing them in figures, slides, and posters
Applying useful design approaches used by experts (layout, eye-flow, color) to any drawings and sketches
Visually present your research message
---
Lecturer
Dr. Jernej Zupanc holds a PhD (2011) and was a postdoc in computer science. He founded Seyens Ltd and his goal is to help scientists effectively communicate their ideas and results and make an impact with their research.
---
Participants
University of Basel PhD students of the Faculty of Medicine and of Swiss TPH.
---
Workload & credits
Total 14 h –> lessons 12 h, preliminary work 2 h
Minimal Standards
---
This is a course from the domain 'Leadership & Personal Competences'. The main competence is 'Communication skills'.
Dates
---
2-3 May 2022
Location
---
Online