The PPHS PhD Day is a yearly event to foster the exchange among PhD candidates in the Health Sciences at the University of Basel. On April 26 2021, about 25 PhD candidates participated in this online PhD day to exchange on research and to learn about science communication and conflict management.

We thank all the participants and especially the speakers for their contributions.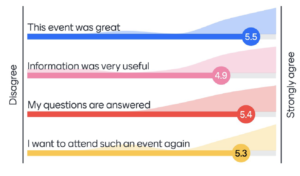 ---
After a short interactive game to warm up for the joint event 3 PhD students presented their research projects:

Nora Fritschi, Clinical Research, University Children's Hospital Basel, "Paediatric tuberculosis in Switzerland: a 6-year national prospective surveillance study."

Ariana Bytyci Katanolli, Public Health/Epidemiology, Swiss TPH, "Health behavior change in patients with NCDs in Kosovo"

Janette Ribaut, Nursing Science, Institute of Nursing Science, "Exploring stem cell transplanted patients' perspectives on electronic monitoring devices measuring medication adherence: A sub-study of the Swiss SMILe project

The PPHS PhD Day then continued with elevator pitches. Therefore, all PhD students were asked to prepare a short 2 min elevator pitch and met in 2 consecutive random break-out groups to stimulate interaction and foster networking within the PhD Program.

In the second part, participants could either join a session on science communication by Sebastian Gibis, digital communications officer at the University of Basel, or on conflict management by Katrin Küchler, trainer at the University of Basel.

Science communication & Social media by Sebastian Gibis

Sebastian Gibis gave a nice introduction and overview of the current state of the art in science communication on social media. Currently, Twitter is the most common tool used for science communication.

Before starting with science communication, answer those questions
What do you want to achieve?
Who is your target group?
Where do you find them?
How can you relate to them?
Further steps and key points to consider are
Setting up a social media channel, e.g. Twitter
Compose a tweet and make sure to include your key message, to avoid lengthy introductions, and state results first, explanations later.
Keep it readable: More text than hashtags and mentions. Use the language of your target group. Link to learn more.
Be social: Mention your colleagues and the institutions involved.
Find your way and tool to manage your social media account.
In the following lively Q&A session important additional aspects such as negative communication or the networking potential of a channel were discussed.

For more information, you can register for Sebastian Gibis' workshop on 'Wissenschaftliche Kommunikation in den Social Media' (in German) at the Advanced Studies.

Conflict Management by Katrin Küchler

Katrin Küchler offers trainings in effective communication and conflict management at the department Training and Development at the University of Basel. She presented different types of conflicts, how to recognize and efficiently address them.

Disagreements are not necessarily conflicts. Conflicts are situations in which disagreements result in a negative impact on the involved people. If you cannot accept the situation, address the issue with the people involved. How can you do that?

One way is a 7-step process:
Choose one person to talk directly to
Opening the conversation in a kind way
Deliver a concise, objective message about the issue. Prepare it beforehand.
Listen to the other person's perspective
Work on solutions. Here, it's important to realize the relationship between the involved parties, as they require different approaches.

Ask for a change (when the conflict is with a peer),
Make a request (when the conflict is with someone in a higher position), or
Give guidance (when the conflict is with someone in a lower position).

Clarify the needs for a follow-up
End the conversation and document the result.
Further tips:
Stay calm! For example, if you find an e-mail irritating, take one night at least before sending your answer.
Prepare difficult conversations, maybe practice with a trusting person in a role play.
Look for support and tools to help you. For example, the Training and Development department of the University of Basel offers trainings and coaching.
Publications and in particular the co-author list are a common source of conflict. You can use a schedule to determine and recognize someone's position.